STAGE 0 (latent stage)
The lymphatic system is already functioning inadequately, but it is still coping with the lymph that is produced. No edema is present.
STAGE I (reversible stage)
Soft pitting edema develops in the affected area and the lymphatic system is overburdened. Swelling can be indented by applying soft pressure. When the affected arm or leg is raised, the swelling reduces on its own.
STAGE II ( spontaneously irreversible stage)
There is increased swelling, which is not reduced by elevating the affected limb. The tissue is hardened and thickened; fibrosis and sclerosis have developed. Indentations can be produced by applying strong, deliberate pressure. Increased risk for infection of the tissues, such as cellulitis, is present.
STAGE III (elephantiasis)
The swelling is extreme, the skin is hardened and shows wart like growths. Sometimes large bulges are present. The risk of erysipelas is high, and the skin is vulnerable to develop deep, poorly healing wounds.
SYMPTOMS
​• Swelling • Burning • Feeling of Tightness and Pressure • Aching • Fatigue • Skin Discoloration • Impaired Joint Mobility • Difficulty Walking • Problems with Daily Activities • Infection of the Skin, Cellulitis • Open Wounds • Fibrotic Hardening of Skin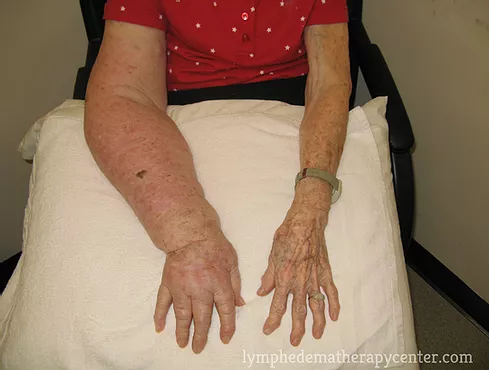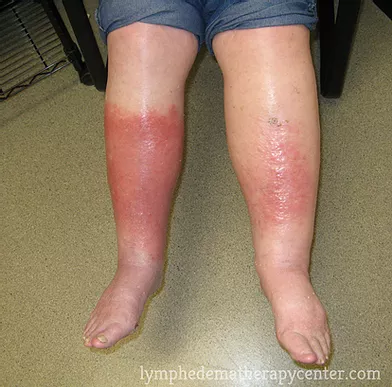 Cellulitis, Skin Infection
Cellulitis, infection of the skin is caused by bacteria that enters the body through broken or cracked skin.
If infection is noted, our licensed therapist will immediately contact your doctor. With the proper antibiotic regimen, spread of infection will be prevented.
​Once skin infection has subsided, you'll resume your treatment at the Lymphedema Therapy Center.
Open Wounds, Skin Lesions
A person with lymphedema and venous insufficiency is at increased risk for skin lesions. ​Vascular ulcerations are most commonly seen in the lower legs. If lymphedema is not treated promptly, skin tissues may weaken over time and be more susceptible to wounds, allowing fluid to leak from the skin.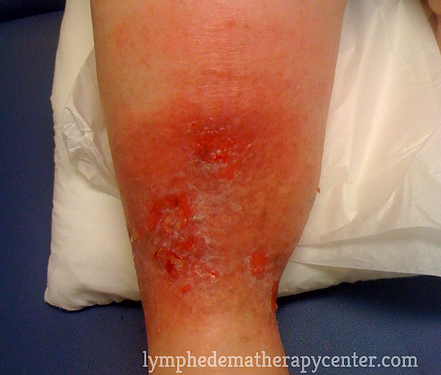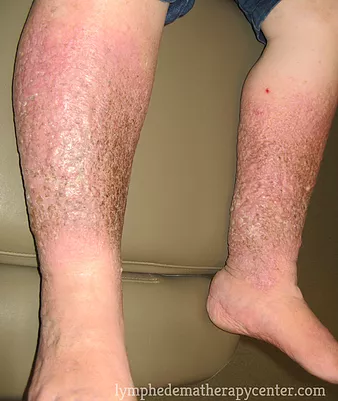 Fibrotic Tissue, Hardening of the Skin
Fibrosis causes a blockage in the flow of the lymph under the skin's surface. The stagnation produces low-grade inflammation and the deposit of structural proteins in the skin that causes fibrosis. This may affect lymph transport in the affected area. If lymphedema is not treated, the skin over the affected area may eventually become stiff, thick, hard, or bumpy.